Being that yesterday was my Monday, I can't say the week started off on a great note. Thankfully, today was much better but I still wish I could have a do-over for yesterday.
One of the major reasons why my day sucked was this….
I managed to slam my finger in the car door which resulted in what I think is a fractured finger tip.
I've definitely reached that point in my pregnancy when pure clumsiness kicks in.  I just seem to be beating myself up over it…literally.
About two weeks ago, I gave myself a black eye at work when I attempted to change the empty water cooler jug.
That thing still isn't completely healed yet.
Anyways, aside from my minor injuries, today was much better as I mentioned,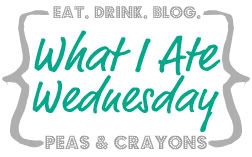 Breakfast – 7:00am
Breakfast this morning was my leftover baked oatmeal from our trip to The Hershey Pantry on Monday.  I had to take John and order this so he could see how his version lived up.  I must say, his was spot on.
This bowl was topped with Greek yogurt, banana, walnuts, and sun butter.  So good!
On my way to work, I realized I was a bit early and decided to stop for an iced coffee.
Here is why I hate Dunkin.  I asked for a decade iced coffee with just a little cream.  The girl repeated my order to make sure it was correct but when I got my receipt it said extra cream.  I took the receipt back to her and told her to make sure it was light cream.  I even remember saying, "seriously, just a tiny bit."
And then this was how my coffee came out.
Yep, cream flavored coffee.  Blah!  I had a few sips before I had to throw the rest out.
I don't know how you New Englanders do it.  I miss my Starbucks!
Anyways…..
Snack – 10:00am
Around 10am, my stomach started to grumble so I snacked on a few nut clusters.
These were so good!  Definitely hard to stop.
Lunch – 12:30pm
Thankfully, I didn't eat enough nuts to ruin my lunch or else I would have been pretty upset about missing out on this…
I made egg salad and sandwiched it between two slices of whole wheat with smashed avocado.
I went a little crazy with the avocado (probably 1/2 of one in there) but it turned out to be delicious.
I also had an apple and some unpictured Kashi crackers.
Lunch dessert….
Snack – 3:30pm
Some days I am completely stuffed after lunch and other days, I am hungry again a few hours later.  Today was one of those hungrier days.
I enjoyed my favorite Luna bar to get me through the rest of the day.
Dinner – 6:30pm
Dinner was a huge win tonight.
I made chicken pitas with sautéed zucchini.  I am still loving anything salty right now so feta, olives, hummus, and cucumber sauce all in one bite made my world.
And there you have it, a full day of eats.  Also consumed was 3 liters of water and a bunch of fruity tic tacs.  Thankfully, my low vegetable diet is helping as I'm feeling much better today.  I did sneak in a few veggies at dinner but hopefully not enough for my stomach to notice.
{ 2 comments }