Happy beautiful Wednesday to you!
At least I hope it was as beautiful for you as it was here.
I'd say we earned a gorgeous day after a few days of nasty rain. Here is a little fun fact about me: my attitude is completely different when it's raining than when it's sunny. I honestly feel that Ben Harper wrote the song, "She's Only Happy in the Sun" with me in mind.
Another fun fact: I eat the entire apple (core and all) and I eat the entire kiwi (skin and all) but I can only eat a banana if the tips are cut off.
Speaking of what I eat and what I don't, I often get asked to post my exact meals or amounts. To be honest, I never really do this on a day-to-day basis because I really don't want the focus of my blog to just be a food diary. Yes, I post a lot of what I eat but mainly because I absolutely LOVE to cook and I love to share my meal ides and inspirations with you. If I was just pouring a bowl of cereal and was so concerned about the exact measurements and nothing else, than that would make the feel and purpose of this blog entirely different. No matter what, I won't win. Meaning, I'll either be eating too much for someone or too little for another. I live by one rule, I eat what works best for me and I always urge others to live by that same regiment.
With that being said, I do think it's fun to post a typical day's eats (in their entirety) from time to time. After all, this is a healthy living blog and I know many people are interested in seeing what others eat on a typical day. It also just happens to be WIAW!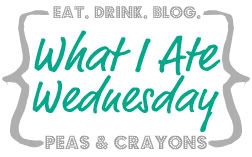 Breakfast – 6:30am
This is a usual fruit and yogurt bowl with the special touch of my leftover baked oatmeal from yesterday's breakfast.
Leftover Baked Oatmeal
Vanilla Chobani
Berries
1/2 a Banana
Almond Butter
Almonds
Chia
The baked oatmeal is definitely better the day it's made but it was a nice addition to the bowl this morning. Still tasted amazing!
My day was filled but I timed everything perfectly. I had an awards presentation in the morning, interviews in the afternoon, and another awards presentation in the late afternoon. Lately, I've been loving comfortable business dresses for the fact that they are easy enough to run around in but dressy enough for business functions.
Lunch – 11:30am
In between my presentation and sitting in interviews all afternoon, I had 5 minutes to run over to one of my favorite local coffee shops for lunch.
I know I've posted about Cornerstone Coffeehouse before, but it's truly my home away from home. The owner is a good friend of mine and loves the blog (Hi Sue!). They have awesome coffee drinks but also a really nice lunch menu with some of the best salads and wraps. They also make killer smoothies but when I saw today that their newest addition had KALE and ALMOND MILK, I just about died.
The one thing I hate about getting smoothies out is that they rarely have almond milk and never ever have I seen spinach or kale in a coffeehouse smoothie. I've always thought about brining my own milk and spinach but then I realized I would be better off just making my own.
This smoothie was incredible! Kale, almond milk, banana and pear. I couldn't have made it any better myself.
I also picked up the Spinach Super Salad.
Spinach, quinoa, chic peas, dried cranberries, carrots, edamame, pumpkin seeds and a homemade carrot ginger dressing (which was incredible).
Thank goodness for places like Cornerstone and their delicious healthy lunch options.
After my interviews were complete, I got into my car and headed to my next appointment. On the way I snack on an apple and stopped for a little pick-me-up to get me through the rest of the day.
Afternoon Snack – 2:30pm
Grande Iced Coffee, one pump SF Mocha, one pump Coconut and a daily calcium supplement.
My day was long but great. I got home, did some plyo work and then worked on dinner.
Dinner- 6:30pm
I think I'm changing my mind about the No Bull Burgers. They are really growing on me. I never ever disliked them but I just think I had a little higher expectations for them than it turned out. I wish I didn't place such high hopes for them to change my world because they really are good, just not the best veggie burger I ever ate.
Anyways, the salad was romaine, cabbage, tomatoes, cucumber, feta, roasted broccoli and eggplant a No Bull Burger, balsamic and hummus.
For some reason, this salad took me almost an hour to eat. Not sure if it was because I was replying to emails and comments or it was just super filling.
Dessert- 8:30pm
I eat something at this time every night. For one, I wake up at 4am every weekday morning to run and I don't eat beforehand, so I make sure I fuel properly the night before. This has always worked for me. Seeing as I haven't eaten this yet, I have no picture but it will most likely be a small bowl of cottage cheese with blueberries and walnuts. Or watermelon and grapes. I can't decide what I'm more in the mood for tonight.
So there you have it. A full day of what I put into my mouth. Some of you may think it's a lot, some may think it's not, but either way, it makes me full, it keeps me healthy, it keeps me satisfied. I never deprive myself, I never count calories, I don't worry about how much or how little. I only do what I know works best for my body and this works and truly makes me feel the best. Please know, that if I am hungry, I eat but my balance of proteins, fats, carbs and whole grains does keep me satisfied throughout the day. I am very conscious to make sure that I am getting what my body needs when it needs it and that is what matters the most for me.
And now it's time for American Idol and that dessert. I'm embarrassingly excited to see Phil Phillips perform tonight!
Night friends!
Do you plan out your daily eats and stick to it or do you like to just go by how you feel each day?