I've mentioned this a few times, but since entering the second trimester, my hunger is all over the place.  Some days I feel completely normal, other days I feel like I could enter an eating competition and win, and then there are days when I don't feel very hungry at all. (<– For the record, I'm not a fan of those days) For the most part, I'm eating as normal as I can.  Okay okay so maybe there are some extra pickles thrown in there or ketchup on just about everything, but you get the point.
I do say that I'm definitely eating more often than I used to.  I read that I should be eating every 2-3 hours and I think I'm doing a pretty good job at sticking with that.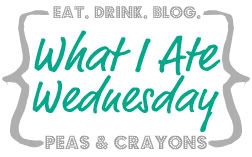 Breakfast – 7:00am
Bowl of Kashi H2H with strawberries, banana, almond milk, hemp seeds, and a bit of granola.
Always with my glass of OJ and a side of prenatal vitamins.
Snack- 10am
I usually start to get hungry around 10:00am so I nibble on some pretzels stashed in my desk drawer.
Lunch – 12:30am
I told you I was all about the deli salads this week.  This was a honey dijon chicken salad from the cafe in my office building served over a small garden salad.  I paired this with a delicious orange.
Dessert was an Adora calcium disk.
Snack – 2:30pm
I love these Luna bars!  The strawberry peanut butter is my absolute favorite but the blueberry vanilla is mighty tasty too.
Dinner – 6:30pm
I was planning on making turkey burgers for dinner tonight, but John picked up Salmon on his way home from work.  I forgot I had asked him to do this earlier in the week and completely overlooked my craving for salmon salads.  Fortunately, he remembered so salmon salads were on!
Tonight's salad was baby spinach, strawberries, edamame, roasted asparagus, avocado, almonds and goat cheese.  Perfection!
Dessert – 8:30pm
I haven't had this yet, but I already know it will be the very last of my baked oatmeal.  I've been enjoying this almost every night for dessert, topped with a little vanilla yogurt and chocolate chips.  I'm very sad to see this go but John has promised to make me another batch soon.  Figure he might as well perfect the recipe while I'm pregnant and can eat copious amounts.
And that is what a typical day looks like.  Again, there are some days when I am way more hungry and may have a few more snacks thrown in, but for the most part, I'm still eating as wholesome and as many nutrient dense meals as I can.
Question: What is your favorite granola bar? I'm partial to Lara bars and Luna bars.  I haven't really jumped on the Quest protein bar train.  I think I've had one and didn't think it was worth the price.